Advanced Ecotourism certified operator, Detour Adventures of Bathurst NSW has eliminated the possibility of their guests littering during their tours by providing smokers with portable personal ashtrays. The ashtrays are branded with Detour Adventures' full colour logo and contact details and make for handy and practical souvenirs for guests to take home with them after the tour, also providing sensational eco-friendly visibility for their business.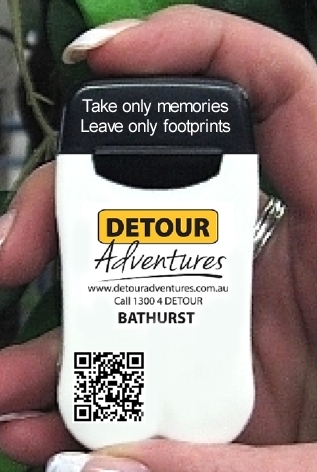 Detour Adventures has taken this innovative approach to tackling the issue of cigarette butt litter with the help of No Butts. No Butts is an organisation dedicated to working towards a butt-free Australia. They are a world leader in manufacturing and distributing the most advanced, economical and intelligently designed range of stainless steel outdoor ashtrays, cigarette ash bins, personal ashtrays and Butt Bins.
Managing Director of Detour Adventures, Ian Redpath says, "Detour Adventures is proud to be fully certified for Advanced Ecotourism by Ecotourism Australia – and we take the issue of protecting our environment very seriously."
Detour Adventures take guests on tours through a number of National Park areas in the NSW Blue Mountains region, the provision of Branded Personal Ashtrays help to ensure guests leave no trace on the fragile environment they are visiting.
"They're our customers and we take them to these incredible locations – and it's our responsibility to ensure that our guests take only memories and leave only footprints," says Ian.
According to No Butts, over 1,000 Tourism based businesses across Australia are now providing No BuTTs award-winning Branded Personal Ashtrays to their guests and patrons.
Keep up the good work, guys!
Read more about Detour Adventures' achievement here.
To find out more about No Butts, click here.