Congratulations to Queensland Japanese Services (QJS) for achieving Advanced Ecotourism Certification for their Green Mountain Tour and Glow Worm Tour.
These newly certified experiences by QJS offer Japanese language, nature-based tours in Australian National Park settings. The Green Mountain Tour takes visitors on a day tour at O'Reilly's Retreat nestled in the UNESCO listed Lamington National Park. Customers experience the ambiance of a small country town and Alpaca farm, and witness the breath-taking beauty of the hinterland and experience the sights and sounds of native flora and fauna during a tree-top walk.
For more information on the Green Mountain Tour, click here.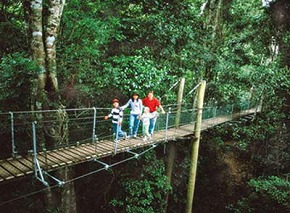 The Glow Worm Tour is an evening tour located at the World Heritage listed Natural Bridge at Springbrook National Park. The tour features glow worm viewing in the Natural Arch cave, a stunning, cascading waterfall, wildlife spotting and star-gazing. Customers learn about the lives of glow worms, while gaining an appreciation for the unique environment they live in.
For more information on the Glow Worm Tour, click here.

For more information on Queensland Japanese Services, please visit their website.
For more information about Advanced Ecotourism certification, please visit our website.